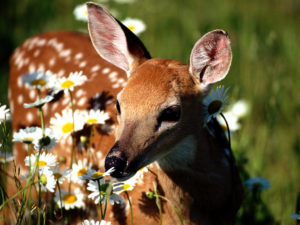 I turned out of the farm gate, and looked up the hill. Three young deer were silhouetted against the early morning sky, standing in the middle of the road at the top of the hill. As a Shaman, I am always on the lookout for signs from Mother Nature, and 3 deer in the middle of the road, staring at me and swishing their tails is a pretty obvious one.
In Native American tradition, Deer is the voice of love and compassion, reminding us to be gentle with those around us, and ourselves. I often encounter Deer when I am being too hard on myself, or those around me, when it is time to reintroduce an element of softness to my life. I need these messages to remind me to keep my heart open, and that love can indeed "conquer" all.
The story of Deer is that a demon was guarding the pass to the Creator, Deer needed to pass, but could not for the presence of the demon. Deer turned large loving eyes on the demon and saw it with utter love, the demon shrank down to nothing in the presence of this unconditional love, for it was mostly made of fear, and fear cannot exist in the same space as love. Deer was then able to pass and continue on her way.
I often receive messages like this, ones of love and support, just when life is about to take a big nose dive, and this week was no exception. In the days after I saw the three four-footed messengers, several important pieces of my life seemed to fall apart, and I keep turning toward the message of deer, to hold myself and those around me with great compassion and tenderness. Deer reminds me to be strong and courageous in my love, open-hearted and vulnerable. Love is the answer, and you can only drive out the dark with light, not more darkness.
A caveat here: in many Western spiritual traditions (even modern spirituality), this concept of unconditional love becomes confused with having no boundaries, with pleasing others at all cost, always saying yes to others first- especially for women.  This is not what I am speaking of.  We cannot give away what we do not have.  Therefore, unconditional love, compassion and acceptance must start with how we hold ourselves first.  The most loving action may mean saying no to a loved one, so that we can care for ourselves, or it may mean letting people who require a great deal of effort from us to fade out of our lives.  It could mean walking away from a job, friendship, or other relationship that no longer nurtures us, or never did.   It means turning those soft eyes of love and compassion on ourselves, and then going from there.