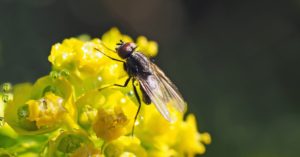 Yep, you read that correctly, a message from fly. Not wolf, or bear, or eagle, or even rabbit, but fly. See, the funny thing about the natural world is that it is a whole world, just like the human world that most of us dwell in. Most of us give very little thought to the natural world, and just like our insulated human world, there are things that we like, and things that we don't like. When we look at the natural world, there are things that we may not see any value in at all, just like in our business/political/human worlds.
However, the difference is that things that we see as useless in the natural world serve some sort of purpose in the overall balance of life or they would not be there. Shamanism holds that even the smallest, most unassuming, even perhaps annoying, life forms can hold messages for us.
I am currently facing several situations in my life that seem overwhelming at times, difficult people that I don't seem to be able to get out of my life, nagging health issues, you get the idea. There is no magic pill or free pass, life is complicated, even when you are a Shaman, maybe even more so, because we are tested continually for our own healing and growth.
Okay, enough of that. I live out in the country on 32 acres with various four legged residents, among them a few equine brothers and sisters, a couple of the porcine variety, canines, felines, and chickens. Summertime is the time of flies! I hate flies, I have to say it, even though it may not be "politically correct" for a Shaman to do so. I am not much about what I "should" do, and I HATE them. Or, at least I used to. Then I began to tune into the message that my little insect brothers and sisters had for me, mostly because they insisted, literally! I researched flies and paid attention to how they were acting around me, and funny thing is, my attitude changed.
Here is the message that fly brings to us, if we are willing to listen. Fly reminds us that our persistence pays off, that our efforts will bear fruit. Fly also reminds us that we may need to step up our efforts to get what we want, and risk being considered annoying, or a pest. Most of us hold back our true selves because we are afraid of being judged. Fly says forget all that and go for it! Be as persistent as you need to be to get what you need from life!
Fly has a way of showing up in my life and landing pretty much on my nose when I am telling myself that I just can't do this anymore. I can, and so can you, fly says so! All of that from a humble "pest".