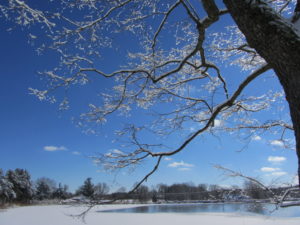 It is winter here in Southern Indiana, not officially, on the calendar, but the snow falling outside my kitchen desk window and the 20 degree temperatures tell me that it is. I could argue, "Well, the first official day of winter this year is December 21st. It is fall until then." I could argue, but what would be the point. As I went out to feed the horses, who look like plush stuffed toys this time of year, and the chickens, who refused to leave the barn, I was in snow pants, heavy down coat, hat, gloves and insulated boots. I was not in a jacket and jeans. It is winter, whether I like it or not, and regardless of dates on the calendar. It is winter just the same.
It is like this every year here. Winter comes when it will. It may not really arrive until closer to the "official" date in December, or it may be here as early as Halloween. I have no say in the matter, and apparently, neither do the folks who make calendars, set dates, and look at equinoxes. Spring, summer and fall are the same, arriving when they do, departing without much notice or formality as far as humans and calendars go. In Indiana, we fuss and adjust as best we can, pulling winter clothes out of storage in a panic and rushing to fill wood bins for the stove, emergency calls to the propane company to fill the tank, frantically hunting for ice scrapers, snow shovels and other necessities of winter life.
Humans are funny creatures. Why? Because we think that we are "in control". I don't think any other animal has this issue with needing to feel in control the way we do. They take nature's surprises in stride and adjust as they must. They do not need calendars to tell them when the seasons change, they feel it in their bodies and migrate sooner or later, eat more or less, and go with the flow.
Much of life is like winter. Things happen to all of us that are unplanned, good and bad events, large and small ones. They pass by barely noticed, or they shake us to our cores. The point is that we are often not in control at all. Not of the situations outside of us, anyway. We plan, make lists, and do everything we can to maintain this sense of control, feeling safe and protected when we are in control, and unstable and scared when it seems that we are not.
What happens when we notice we are not in control? Most of us resort to immediate reaction, doing something to "fix" the situation. Maybe that is the answer, maybe it is not. Often, we are best served by sitting with the change and integrating it rather than simply reacting. Unfortunately, it is pretty common for things to pop up that cannot be fixed, but must be "endured". What then?
We can wear ourselves out resisting the change, the lack of control, the unknown. Back to the weather- we can argue that it is not yet winter, and refuse to put on our winter gear. We can complain about global warming and what it is doing to the world. We can rage against circumstances and the weather. We can decide to move south.
Or, we can accept that it is cold, frigid, in fact. It is snowing, and our hands are becoming numb, and go and get some warm gloves. We can accept events as they are and do what we can to roll with them. I am currently faced with several situations (in addition to an early winter) that I am finding it difficult to endure. There is a difference between endurance and surrender. Perhaps it is in the definitions of these terms? To endure is to suffer patiently. Suffering is not what I want to do with my life, and yet, when I am constantly fighting against what is, worrying about what may be, overanalyzing, and generally preparing for the worst, then I am indeed suffering. (Don't despair, dear reader, you are not alone! I do all of these!)
And yet, the definition that I am using for surrender, "to cease resistance", is something much different from suffering patiently (or not so patiently!). Ceasing resistance means that you stop swimming against the current to rest and catch your breath. It means that you can float and pause to notice the blue sky, the golden sun, or the snowflakes cascading down. You won't do any of that if you are suffering and waiting for it to end.
I am saying that sometimes we really have few productive options available to us. In those times, we can struggle, or we can stop resisting. We often wear ourselves out struggling, when we could be coasting and saving our reserves for a new opportunity. People get so caught in the struggle, the resistance, that they cannot see new doors opening. Creativity usually does best when there is room for it. Even if nothing new comes along, you can enjoy the ride while waiting for things to change, because they always do.
I am not saying give up. If you knew me, that is the last thing anyone would ever say about me. I am a fighter, a survivor, and have always been proud of those aspects of me. And, as I accumulate more years in this life, I started to realize that fighting is exhausting, and I began to look for opportunities to rest. I am saying do what you can, and then let it go. Do what you can to handle things, and then go play. I went and unpacked winter gear, hauled in wood, took care of the animals, wrote this piece, and then went for a walk in the snowy woods.
Here is what we can control- our attitude and thoughts. Life is going by whether we like it or not. It is a ceaselessly flowing river. We can choose to enjoy it as it passes, or not. It really is a conscious choice, although not an easy one. It is not easy because we have been taught something different, that suffering is noble, and to be admired. It is neither. So today, I invite you to notice what you cannot control, and let go of it, like dandelion fluff on the wind.