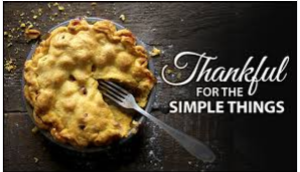 My daughter is a very happy person, and yet, she there is a strong "glass empty" part of her. When she was little, like 4, I told her a story about pie and missing pieces. I said, "If I give you your favorite pie, and there is one slice taken out, and all you look at is that place where the slice was, you won't enjoy the pie. You might not even be able to eat any of it, because you are so busy wondering what happened to that piece. 'Did Mom eat it? Who took it? Where is it? I want that PIECE of PIE!' But, if you look at the other 7 slices of pie that you do have, then guess what?! You enjoy having your 7 slices of pie." (Wow, lucky girl, having such a philosophical mother!)
Most of us are like my daughter. We get caught up in looking at what we think is missing from our lives – the job we want, a relationship, perfect bodies, youth, wealth, etc. Worrying about/thinking about/obsessing over what is not here takes energy. Imagine that you have a jar of $1 bills at the beginning of each day, and that they can go towards things that bring you joy, or towards things that don't. Most of us when faced with this concrete example would watch where we were putting our money. Unfortunately, we usually don't give our thoughts the same attention.
I was stuck in a rut last week, creativity at zero, tired, uninspired and just generally blah. I got in the tub to just relax, and as I let my mind drift, it kept going to things that were "missing", things that I thought were problems to be solved, only these particular problems are ongoing ones that don't have real immediate solutions. So, what I had I been doing? Worrying over them, analyzing the same strategies over and over and over again – wishing the people involved would go away, disappear, pull a Grinch and grow their hearts 3 sizes, and on and on. Suddenly, I was struck by the realization that I was looking for the missing piece of my pie! I had been telling myself I was problem solving, but what I was doing instead was spinning my wheels and burning up energy. No wonder my creativity was at zero!
Still in the tub, I visualized my problems going down the literal drain, with the bath water, and I thought about what I love in my life, what brings me joy, what I am grateful for. And I let myself float in that for a bit. Then you know what happened? Ideas came to me. Ideas for this blog, and other blogs, ideas for a new book. Creativity happened!
The other cool thing about the pie thing is this: Have you ever had a food in your place that you loved, and it was being shared by other family/friends/room mates? Then, you go into the fridge or kitchen, and Voila! There is one piece left?! One piece left when you were expecting that it would be gone?! I don't know about you, but when this has happened to me, I do a happy dance, squeal, laugh out loud and go grab a fork!
All of that joy from one piece left. I think that experience can be a powerful reminder of our capacity for joy and also for how important our attitude is. Most of us have one thing we can be grateful for and turn our attention to when we find ourselves spinning in problems and worries.
I think we have all heard how focusing on what we don't want brings more of that, but most of us probably don't know how or why. I think after this experience thinking about pie in the bath, that it happens because our energy for change and forward momentum is literally being used up with thinking about our problems. This makes sense to me, and it is something that I can hold onto. It feels more concrete than memes and jaunty slogans about "Manifesting". I think manifesting is about getting out of our own way, putting fears and worries aside. Manifesting is about choosing to set aside the mental clutter so that creativity can flow. I put my mental clutter in a "virtual" box that I visualize, or I let it go down the drain, depending on what it is.
What's your way of setting aside mental clutter and allowing creativity to flow? If you have never tried to consciously to opening creativity in your mind, give it a try and share your experience!